Welcome in the Kop van Jut
From our open kitchen we serve a wide range of delicious dishes.
There is a choice of meat, fish and vegetarian dishes. In addition to our standard menu, we have daily changing specials. Ask our employees, they will gladly tell you at your table.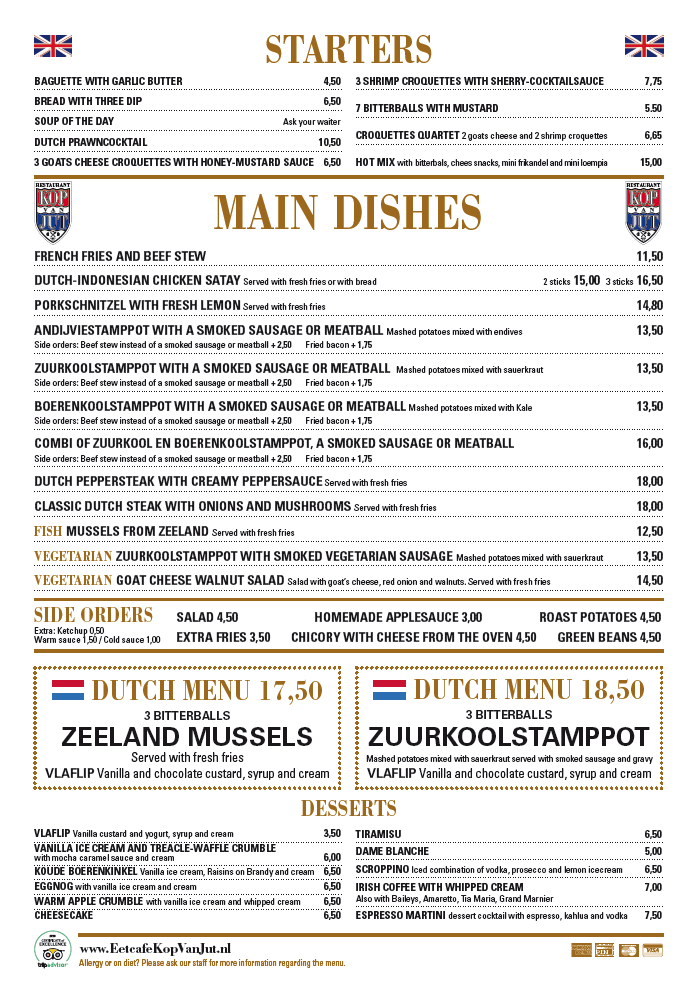 The "new normal" in Kop van Jut brings a lot of change, especially regarding reservations.
We adhere to the guidelines set by the government in order to guarantee the health of you and us as much as possible. Reservations are therefore mandatory for the time being.

Reservations can currently be made under the following conditions:
– Maximum 2 people per table.
– Only confirmed reservations are valid.
– Do you have mild health problems on the day of the reservation or do you want to change or cancel the reservation? Please call us at (06) 27 96 24 69.
– If you have made a reservation and you cannot be present at the agreed time, please kindly inform us by telephone.
– We will keep your reserved table for a maximum of 15 minutes. If you are not there, your table will be released.

This helps us to ensure that everything runs smoothly and we look forward to your arrival.

See you at the Kop van Jut!